I recently added 9 new Daniel Smith watercolors to my palette and I thought I would share my thoughts on them and I how I envision using them in future work. Here are the next two for you to consider adding to your ever-growing Daniel Smith palette!
---
DANIEL SMITH (PG23) | rare green earth  is dark green in mass tone and in washes. With the slightest hint of blue, it suggests, in washes, the hue of distant evergreens. It's good for atmospheric shadows too. Try mixing Rare Green Earth with Rhodonite to make luscious, reticulating grapy purples.
ASTM Lightfastness Rating: Excellent
Transparency: Transparent
Granulating: Yes
Staining: Non-Staining
DANIELLE'S THOUGHTS | rare green earth is a subtle, chalky green that reminds me of a soft moss that grows on the rocks and trees on my hikes in the forest. I just want to lay down and take a nap in it. Pictured on the leave to the right, it is a smidge warmer than Perylene Green and a little harder to pull from in pan form. I love green. Every single shade including this one so i might be a bit biased. It doesn't respond to a sprinkle of salt but if you drop little bits of water or color into it – the blooms seriously look like moss. Lovely. I especially love it mixed with Quin Violet, Shadow Violet, or Perylene Maroon!  (At blog publication date – Amazon link price below is $12.45)
---
DANIEL SMITH (PBk31) | perylene green -if you want to add atmospheric or emotional punch to your work, then squeeze some semi-transparent Perylene Green onto your palette. It exhibits an almost black mass tone that spreads to a beautiful blue/green wash without producing mud-a color perfect for delineating shadows or creating moody landscapes, ominous horizons and stormy seas. A medium-staining pigment with intensity and softness, Perylene Green is highly soluble and easy to use. It glazes under or over other colors, takes to synthetic and natural DANIEL SMITH watercolor brushes, and works well on all supports-"a very cool color," allowed one of our more persnickety artist/testers.
ASTM Lightfastness Rating: Excellent
Granulating: No
Staining: Medium staining
Transparency: Semi-transparent
DANIELLE'S THOUGHTS | perylene green is a stunner! But be careful, this is one of those colors that you need very little of – be sure to put it on your mixing palette prior to adding it to your work.When used at full strength, it can be quite opaque but if you add enough water it transitions into a deep, cool green. It reminds me of  the dark, shiny leaves of a gardenia plant providing a luscious backdrop for its snow white blooms. Pictured on the leaf to the left, you can see white ink markers LOVE this color! I have a feeling this will be making its way into lots of shadow mixtures for me. You'll love it with Rhodonite Genuine, Sodalite Genuine and for a pretty olive, try Aussie Red Gold! (At blog publication date – Amazon link price below is $16.44)
---
Want to add them to your palette, too? Just click on the color below and you'll be whisked away to Amazon. At the time of this posting, these links are a good price and the product comes from Daniel Smith. IMPORTANT! Amazon has a mind of its own and prices change based on demand, availability and parameters that are totally out of my control. If the price is more than $20 per tube, please type in "Daniel Smith COLOR NAME" into the Amazon search box and see what other purchasing options you have! Still not sure if it is the best price? Check other online art supply stores!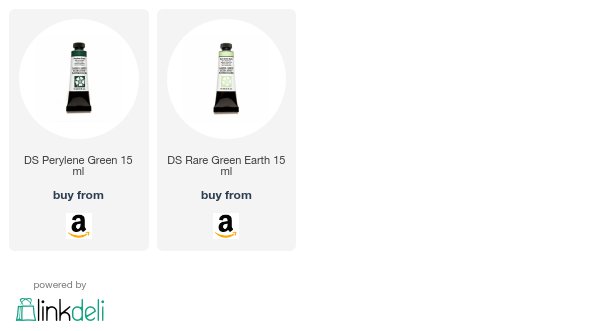 I have to admit – daniel smith writes such interesting descriptions of their colors that some of them make it onto my palette because I really like their story. Some because I love their sister and brother colors in their family (like the COBALT family, or the ULTRAMARINE family), and some make it because I know that I might not use them as the star of the illustration but as the perfect supporting color.
Descriptions and information about Daniel Smith Watercolors from danielsmith.com –  a site chock full of really helpful and interesting information. All paints referenced are 5 ml or 15 ml tubes. My process is simply filling a pan from the tube, allowing it to dry completely, then reactivating it with water when I paint.
For more of my favorite supplies and my disclaimer, please visit my favorites page!
---
Are you up for a road trip? Live in Texas? or have the itch to get on a plane and come paint with me? There are a few spaces left at my workshop in Lubbock, TX on September 15-17 with Blessed to be Artists – the ever gracious and super fun hosts. And they have bitty goats, peeps! Who needs goat yoga when you can have goat studio time! We'll be painting sweet jars with paintbrushes and blossoms and playing with my creative girl stamps! Woot!
Just CLICK HERE to join in on the fun!