I recently added 9 new Daniel Smith watercolors to my palette and I thought I would share my thoughts on them and I how I envision using them in future work. Here are the next two for you to consider adding to your ever-growing Daniel Smith palette!
---
DANIEL SMITH | yavapai genuine Apache legend speaks of a single dove that left the edge of the original well and saw the world. When the great floods came, this dove led the first woman to the safety of the Yavapai. Today, the enfolding security of the Yavapai stone provides a sentimental glimpse through time. The endurance of the stone symbolizes the endurance of the human spirit. The warm, reddish, yellow-brown color, similar to a sienna, remains unchanged. Made from Arizona rock, Yavapai Genuine is transparent with a surprisingly smooth texture in washes. This legendary pigment can link your palette to the indomitable past and the bright possibilities of the future. We've captured the strength of the Yavapai in an historic mineral pigment that exemplifies the perpetual energy of art.
ASTM Lightfastness Rating: Excellent
Transparency: Transparent
Granulating: Yes
Staining: Non-Staining
DANIELLE'S THOUGHTS | yavapai genuine is one of those colors that I added to my wheel because of the story behind it. I haven't discovered its magic yet – it seems to be a bit boring to be honest. It's a pretty color but not particularly responsive to salt or splashes of water – its very sturdy. Which makes sense given the story, right? Please note that I could not find this color on the DS website so I am wondering if it may have been discontinued. If you love the story as much as me and are a color hoarder – grab it while you can. I will say it mixes well with strong color like Quin Coral as shown – softening it just a bit to make very autumn-like color!  (At blog publication date – Amazon link price below is $14.42)
---
DANIEL SMITH | bronzite genuine is a warm honey-bronze color with lustrous sparkle provided by very fine films of iron oxide.  The fibrous, fairly fragile Bronzite stone from Brazil is occasionally used in jewelry but excels as a watercolor pigment. It's a warm golden-brown in masstone – somewhere between ochre and sienna, but distinctly different – that lets down into pale washes of soft, always warm, sandy beige. In a wash on cold press or rough paper, the brown settles out of this intriguing special-effect color.
ASTM Lightfastness Rating: Excellent
Transparency: Transparent
Granulating: Yes
Staining: Non-Staining
DANIELLE'S THOUGHTS | bronzite genuine is quite sparkly for a boring brown – an oxymoron of sorts. It reminds me of the infields at little league games after they have been given a nice spray of water to keep the dust down. Salt creates subtle blooms – if you don't like really dark edges forming on your washes, this will be a great addition to your palette. And it does SPARKLE – especially with Hansa Yellow Deep as shown. (At blog publication date – Amazon link price below is $13.44)
---
DANIEL SMITH | brown iron oxide at full strength this deep umber is useful for warm shadows and dark values. Mixed with water, a brilliant granulating wash displays warm cinnamon tones with a darker pattern of granulation. Enviro-Friendly pigments are reclaimed and refined, giving you an earth-friendly option without sacrificing color quality.  DANIEL SMITH Enviro-Friendly Watercolors-the colors aren't green, but the process is! To make these paints, we use pigments from the earth's crust, obtained through a process known as Iron Oxide Recovery (IOR). This method removes colored iron oxides that pollute mine water, cleaning the water so it can re-enter a receiving stream-and resulting in a cleaner natural environment. The recovered iron oxide is thoroughly washed, then used to create a trio of rich colors ranging in tone from a warm golden yellow to a deep red earth to a beautiful saturated dark brown with a bluish undertone.
ASTM Lightfastness Rating: Excellent
Transparency: Semi-Transparent
Granulating: Yes
Staining: Non-Staining
DANIELLE'S THOUGHTS | brown iron oxide is by far my favorite neutral of my new paints. It has a really cool variation of colors that are activated with water and salt. You can see warm and cool shades of brown emerge as it dries and that is a winner in my book! This color holds its own and I like using it to create an earthiness in my illustrations. Check it out mixed with Cobalt Teal Blue. Sigh! (At blog publication date – Amazon link price below is $14.42)
---
Want to add them to your palette, too? Just click on the color below and you'll be whisked away to Amazon. At the time of this posting, these links are a good price and the product comes from Daniel Smith. IMPORTANT! Amazon has a mind of its own and prices change based on demand, availability and parameters that are totally out of my control. If the price is more than $20 per tube, please type in "Daniel Smith COLOR NAME" into the Amazon search box and see what other purchasing options you have! Still not sure if it is the best price? Check other online art supply stores!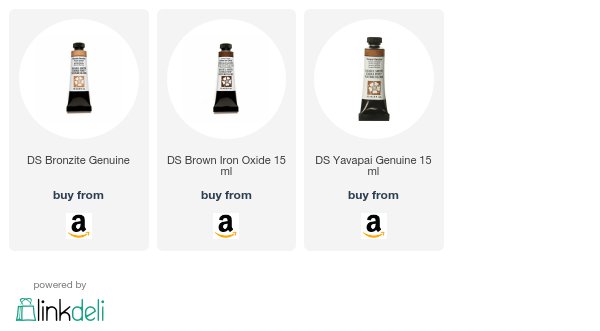 I have to admit – daniel smith writes such interesting descriptions of their colors that some of them make it onto my palette because I really like their story. Some because I love their sister and brother colors in their family (like the COBALT family, or the ULTRAMARINE family), and some make it because I know that I might not use them as the star of the illustration but as the perfect supporting color.
Descriptions and information about Daniel Smith Watercolors from danielsmith.com –  a site chock full of really helpful and interesting information. All paints referenced are 5 ml or 15 ml tubes. My process is simply filling a pan from the tube, allowing it to dry completely, then reactivating it with water when I paint.
For more of my favorite supplies and my disclaimer, please visit my favorites page!
---
Are you up for a road trip? Live in Texas? or have the itch to get on a plane and come paint with me? There are a few spaces left at my workshop in Lubbock, TX on September 15-17 with Blessed to be Artists – the ever gracious and super fun hosts. And they have bitty goats, peeps! Who needs goat yoga when you can have goat studio time! We'll be painting sweet jars with paintbrushes and blossoms and playing with my creative girl stamps! Woot!
Just CLICK HERE to join in on the fun!