I recently added 9 new Daniel Smith watercolors to my palette and I thought I would share my thoughts on them and I how I envision using them in future work. Last week we covered yellows – this week, a new favorite orange and a meek little violet.
---
DANIEL SMITH (PR168) | anthraquinoid scarlet is a deep, transparent orange. In a wash, it's a light peach tint—at full strength, it moves to a deep, red-orange lipstick color with all the pigment strength, DANIEL SMITH paints are famous for. It's absolutely beautiful!
ASTM Lightfastness Rating: Excellent
Transparency: Transparent
Granulating: No
Staining: Low
DANIELLE'S THOUGHTS | anthraquinoid scarlet is a dreamy, blush color when mixed with lots of water to create a transparent wash. DS considers it an orange but it looks more like a really warm red to me. I just love this color! It mixes beautifully with lots of colors. Try it with Nickel Titanate Yellow or Titanium Buff- it is a perfect peach skin tone!  It lifts easily which is a huge plus since most reds and oranges can be really stubborn. This is a LIMITED EDITION color. I highly suggest stocking up on it while they have it. (At blog publication date – Amazon link price below is $15.01)
---
DANIEL SMITH (PY49)| cobalt violet creates glowing shadows with interesting granulation. An inorganic pigment, it is considered transparent, non-staining (or low-tinting) and ideal for glazing methods. Cobalt Violet's ability to create soft edges, to lift and to mix readily makes it a valuable contribution to watercolor palettes.
ASTM Lightfastness Rating: Excellent – Not yet rated by ASTM – Rating based on Daniel Smith's independent testing.
Transparency: Transparent
Granulating: Yes
Staining: Non-staining
DANIELLE'S THOUGHTS | cobalt violet is a very shy color and quite hard to coax into coming out to play. A bit disappointing to be honest. The color, a light but bright magenta, is beautiful if you grab a lot – it just doesn't do that much.  If you transition your tube paints to pan paints, you'll need to spray the pan with a good dose of water to activate. The granulation is really pretty but there's no variation in color within the granulation or with salt sprinkled in. I am hoping that when I mix it with colors in the future, it will surprise me and become a mixable favorite. If I find that magic mix, I will share!  Oh and if you are a lavender lover – you'll want to consider adding it to your palette. (At blog publication date – Amazon link price below is $15.01)
---
Want to add them to your palette, too? Just click on the color below and you'll be whisked away to Amazon. At the time of this posting, these links are a good price and the product comes from Daniel Smith. IMPORTANT! Amazon has a mind of its own and prices change based on demand, availability and parameters that are totally out of my control. If the price is more than $20 per tube, please type in "Daniel Smith COLOR NAME" into the Amazon search box and see what other purchasing options you have! Still not sure if it is the best price? Check other online art supply stores!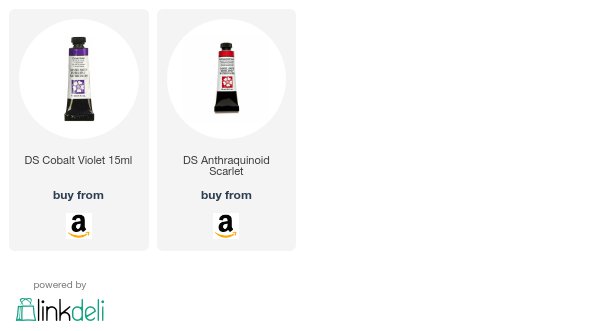 I have to admit – daniel smith writes such interesting descriptions of their colors that some of them make it onto my palette because I really like their story. Some because I love their sister and brother colors in their family (like the COBALT family, or the ULTRAMARINE family), and some make it because I know that I might not use them as the star of the illustration but as the perfect supporting color.
Descriptions and information about Daniel Smith Watercolors from danielsmith.com –  a site chock full of really helpful and interesting information. All paints referenced are 5 ml or 15 ml tubes. My process is simply filling a pan from the tube, allowing it to dry completely, then reactivating it with water when I paint.
---
For more of my favorite supplies and my disclaimer, please visit my favorites page!